Contributed by History Makers
The special, hosted by PBS-TV journalist Gwen Ifill, will air on PBS's WGSU (Grand Rapids) network at 8 p.m. Sunday, February 24.
*Headline photo courtesy of the Velvelettes. Pictured in this 1963 studio shot for Motown include back from left with their maiden names: Mildred Gill, Bertha Barbee, Caroline Gill; front from left, Betty Kelly and Norma Barbee.

Watch Preview on PBS. See more from An Evening with Berry Gordy.
See more at: http://www.pbs.org/programs/evening-berry-gordy/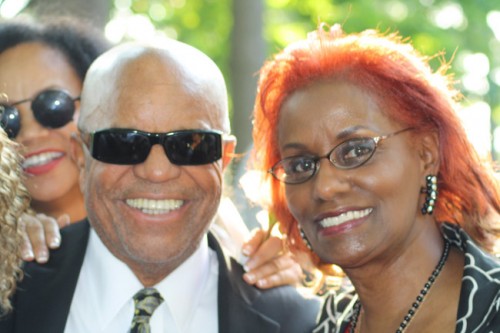 In 1962 a group comprised of young women from Kalamazoo and Flint, Michigan decided to compete in a talent show on the campus of Western Michigan University. The winner of the event  hosted by the Alpha Phi Alpha Fraternity, Inc., would receive a whopping $25 cash prize. The girls won, and that wasn't all. A member of the fraternity visiting from Detroit suggested that the girls audition for his uncle. Who was his uncle? Berry Gordy.
Today, the Velvelettes are a part of Motown musical history. Two members of the original five-member singing group honored Berry Gordy during a recent History Makers annual event held in Chicago. The special, hosted by PBS-TV journalist Gwen Ifill, will air on PBS's WGSU (Grand Rapids) network at 8 p.m. Sunday, February 24. Cal Street, lead singer, and Bertha Barbee-McNeal, were invited to participated in the star-studded event hosted by History Makers. The organization is dedicated to recording and celebrating the history of African Americans who have contributed to history in a variety of ways. Visit: www.historymakers.org for more information.
An Evening With Berry Gordy created by History Makers provides a rare inside look into the life and times of boxer, songwriter, producer, movie director, entrepreneur and Motown founder Berry Gordy with PBS-TV journalist, Gwen Ifill, serving as the host interviewer. Backed by American Idol's Ray Chew and his band, the program features live musical performances by Valerie Simpson ("I'll Be There") of the legendary Motown songwriting team of Ashford & Simpson. Other performers include Motown artist KEM with Marvin Gaye's "What's Going On" and singer/songwriter Janelle Monáe with the Jackson Five's "I Want You Back". The performances of Brandon Dixon and Valisia LeKae who play Berry Gordy and Diana Ross, respectively, in Motown The Musical with "To Be Loved" and "You're All I Need to Get By" had the audiences wanting for more.
Intermixed in the show are live appearances from National Newspaper Publishers Association president, Danny Bakewell, who describes Gordy's groundbreaking accomplishments and Reverend Jesse Jackson who tells of Gordy's importance to Reverend Martin Luther King, Jr. and the Civil Rights Movement. Suzanne de Passe, his longtime friend, business associate and mentee, had the audience laughing aloud as she tells of their work together and his role in putting women in leadership positions. Others provided their perspectives on "The Chairman" and his Motown Legacy. They include: Quincy Jones, Stevie Wonder, Smokey Robinson, President Bill Clinton, Edgar Bronfman, Leon Huff, Kenny Gamble, Doug Morris and Marty Bandier.