by Sonya Bernard-Hollins, publisher

(Headline caption)-Sheila Anderson, right, poses with People's Co-Op front-end manager Amber Hejl in front of some of Anderson's work on display in the store for Black History Month. Community Voices photo.
ARE YOU WEARING YOUR CREATIVE GENES? SHARE HOW YOUR ART INSPIRES OTHERS! CONTACT THE EDITOR AT: editor@comvoicesonline.com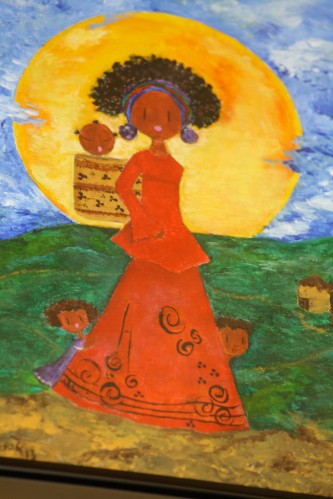 KALAMAZOO (MICH.)– A nice clean white wall plus a child armed with a crayon could equal a scolding for many toddlers. A three-year-old Sheila Anderson however, had a very different experience.
"One day I was coloring on the walls in my room. When my mother saw it, she said, 'did you do that?' But, it was the way she said it that was different than being in trouble. My mother was impressed. She said, 'you are a artist.' That stuck with me. When I went to school, my art was always selected for displays and contests."
Today, Anderson's vibrantly-colored artwork hangs subtly among the fresh fruits and vegetables customers peruse over at People's Co-Op located on Harrison Street near downtown Kalamazoo. Anderson is one of only a few artists selected to have their work on display at the market during its participation in Kalamazoo's Art Hop on the River's Edge held quarterly each year. Her current display is in honor of Black History Month Month this February.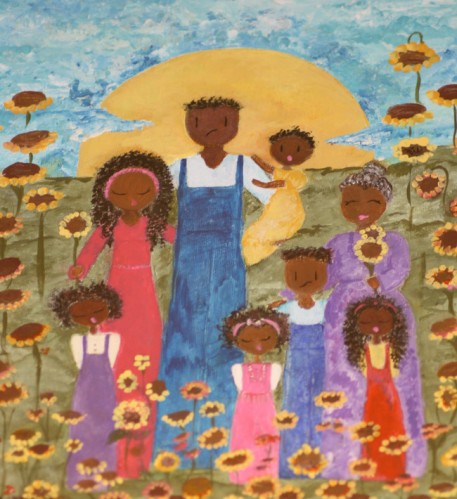 Anderson said her work exemplifies the positive images she encountered growing up in Kalamazoo. She said many people feel African American artists too often depict the harsh realities of life, slavery, and oppression. However, she said those images don't truly reflect African American life.
"(African Americans) are not all angry. We didn't all grow up with single parents, lacking education, and mentors," Anderson said. "I had a very happy childhood and my art reflects that."
Her image entitled, "My Family," shows a mother, father, grandmother, and kids posing in a field of sunflowers. She said that scene is one that happened often as her family took country drives and picked the welcoming sunflowers along the road. Another image of singing tulips represents her sister who always sang her best in the shower. Another image, over the produce depicts nursery rhyme characters, all as African American images.
"When my mother read to me, I saw Humpty Dumpty, Little Jack Horner, and the other characters, as black. So, I drew a portrait in honor of my imagination as a child," Anderson said.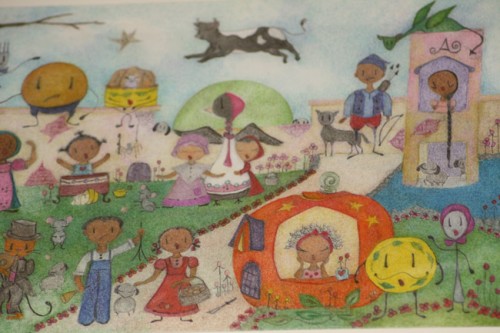 Other images are more profound, such as one of deceased pop idols Whitney Houston, Aliyah, and Minnie Rippleton, all singing together as angles in heaven. And the image entitled, "My Sister, Ma' Sista'" represents the bonding of African American women with sista's from Africa.
Anderson's work has been displayed during the Black Arts Festival in Kalamazoo along with other events at the Douglas Community Center. She is seeking more venues to display her work and sell her greeting cards and prints which are based on the many images she has created over the years. While she does earn some income on her work, she is striving to make more. In the meantime, she said the positive reaction from those who see her work keep her motivated. She thanks Amber Hejl, Chris Broadbent, and Chris Dilley of People's Co-Op for their support of her work.
"I get my encouragement from people. When I get that positive support, it just makes me want to do more," she said.
Stay tuned for more on Anderson's greeting cards and prints!