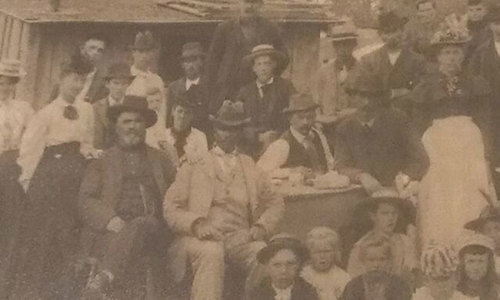 By Sonya Bernard-Hollins, publisher
editor@comvoicesonline.com
KALAMAZOO (MICH.)-Benjamin was just a toddler when his father Abraham escaped slavery on a Boone County, Kentucky plantation with nothing more than the clothes on his back, and his barber clippers. Young Ben had heard stories that his father promised to one day return for him and his sister. After the Civil War, Abraham kept his promise. The former fugitive slave returned to his old plantation home to claim his family and bring them north to his new home in Howell, Michigan where he had become a successful, respected businessman. What Benjamin learned from his father allowed him to blaze his own historic trail in life.
The new children's book, Benjamin Losford and His Handy Dandy Clippers is co-authored by Sean and Sonya Hollins, and illustrated by Kenjji Jumanne-Marshall. The authors will share their book with the town of Edmore, Michigan on April 19th. A day of events hosted at the area library, a museum curators' luncheon, and the local school are planned. Books are available in advance at: BUY BOOK ONLINE
The Hollins' take their passion for history and publishing and team with award-winning artist, Kenjji, to create the newly released historical children's book based on the life of Benjamin Losford who was not only the first barber in Edmore, Michigan, but the town's first African-American citizen. Losford's legacy led to a family business that is recorded as the longest-running business in Edmore's history–81 years.
"I learned the story of the Losfords while doing a presentation on Merze Tate (www.merzetate.com) at the Grand Rapids Public Library back in 2012," Sonya said. "I was approached by Shirley Wulff and Fran Kondek of the Pine Forest Historical Museum who saw my passion for telling Tate's story. They told me about the Losfords and asked if I could do something to preserve his legacy? I couldn't pass up the challenge!"
The story shares of the importance of determination, the necessity of having a talent, and the desire to contribute to community that will inspire children of all ages. The Losfords' story begins in 1820 on a Boone County, Kentucky plantation and ends in 1978, in Edmore, with the passing away of Benjamin's daughter, Jessie.
The Hollins', owners of Season Press LLC, have helped dozens of self-published authors manifest their dreams of publishing into reality. The team now is dedicated to sharing stories of Michigan history through their imprint, Community Voices, based on the name of their quarterly magazine publication founded in 2005 by James and Arlene Washington. The new imprint will highlight the true-life stories of those who embody the desire of determination and the power of a dream. Those highlighted have stories that exemplify how a gift, talent, and passion to make a difference can take one to places others never imagined. These stories are made to inspire youth to dream and realize that obstacles are motivators toward opportunities.
For more information or to interview the authors, contact Sonya Hollins at: 269-342-2367 or email: editor@comvoicesonline.com.