Contributed by Brain Chandler- Grand President of B.L.A.C.K (Black Leaders Aspiring for Critical Knowledge) Ferris State University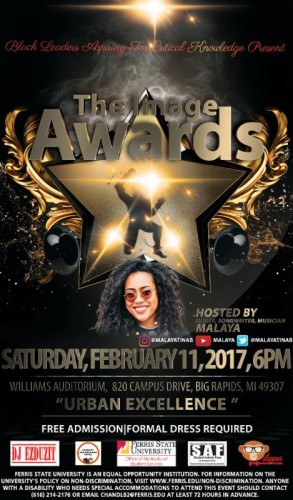 BIG RAPIDS (MICH.)-
Each year the organization has an award show called "Image Awards". The Image Awards is an annual award show presented by Black Leaders Aspiring for Critical Knowledge (BLACK) to honor students, faculty and staff for their outstanding work and dedication.
LaMira King, an FSU student at the time, started the Image Awards in the early 1990's. The Image Awards was created to bring people together and to help support one another. King designed the Image Awards to be "Edutaining", and to serve as a platform to recognize the hard work and success of organizations, students, faculty, and staff.
This event is free and open to everyone, formal wear is encouraged there will be giveaways for a best-dressed contest during the event! The event will include performances and awards presentations. Ferris students, faculty and staff are invited to come out Friday, February 11th at 6:30 pm in the William auditorium.
A part of Ferris State University Office of Multicultural Student Services' 2017 Black History Month Celebration.
This event has been brought to campus by Student Activity Fees as allocated by the Finance Division of Student Government. Anyone with a disability who needs special accommodations to attend this event should contact (616)214-2176 or 
chandlb2@ferris.edu
at least 72 hours in advance.