*Headline photo: Courtesy of Motown the Musical
An Exclusive Community Voices Interview by Sonya Bernard-Hollins
Motown the Musical come to Miller Auditorium May 9-14, 2017. For more information, visit: www.milleauditorium.com.
*To attend the May 11th show to support the Merze Tate Explorers' youth study abroad program, visit: www.millerauditorium.com/MTE.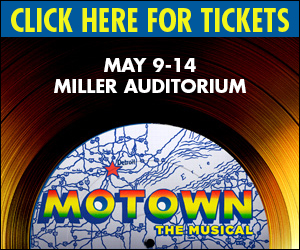 KALAMAZOO (MICH.)-When Berry Gordy borrowed $800 from the family fund to invest in a record company, he had no idea what would happen. All he knew was—sink or swim, he had a set time to pay the family back. What he didn't know, was that his tenacity to take an African-American owned company, focused on African-American talent, would make him a millionaire and take him and his artist around the world. Their music became the soundtrack to the 1960s.
Gordy, a man with the power to make—or take dreams—became a legend in his own time. And, as with any legend, scandal, intrigue, deception, and greed are not far behind. Authors of such books as Motown: Music, Money, Sex, and Power, and The Untold Story: Berry, Me, and Motown, gave those in the Motown family, a way to tell it their way.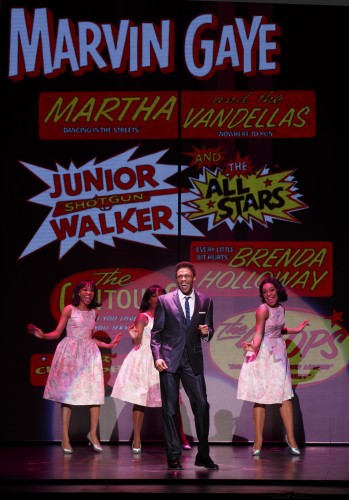 However, Gordy penned his own work, Berry Gordy: To Be Loved. Of that book, he said, "The whole purpose of writing a book is to be understood—if other people write about you, they try to guess why you did things, or they hear things from other people."
In 2013 Gordy took his book to a new level; creating a musical stage production called, "Motown the Musical." This production debuted on Broadway to sold-out crowds. The critically acclaimed production will come to Miller Auditorium May 9-14, 2017. (www.millerauditorium.com).
Jarren Muse was originally cast as a male "swing" (a person who trains as alternate for various roles) in the Broadway production. He came into the production with preconceived notions of Gordy, a music mogul who did whatever it took to succeed in the cutthroat music industry.
"I came into this job thinking of the things I'd heard about Gordy; believing, 'Oh, Mr. Gordy was crook.' I came to find out that people say one thing (rumors) and run with it. I've learned, by being a part of this show, that a lot of (misinformation) goes on in life, and often is a separation of truth and fact.
"Mr. Gordy has been a part of the (production) process since the beginning. He was there during the entire rehearsal l process," said Muse, who soon was casts as the play's Marvin Gaye.
Gaye was best known for such hits as "Ain't No Mountain High Enough", "I Heard it Through the Grapevine", and "Sexual Healing". His father tragically killed him on April 1, 1984, after years of drug use that crippled his life and career.
Muse said having Gordy on set to share the true stories behind some of the scenes in the play (and the actor's real lives), helped the actors really get a feel for how to play their roles. More importantly, Gordy further encouraged Muse personally.
"Mr. Gordy told me he 'saw Marvin in my eyes,' and as an artist, I had similar personalities and nuances as Gaye (who was once married to Gordy's sister Anna). It was cool to learn about the side (of the artists) you don't see in the media. To have him tell his story and leave his legacy… I have so much respect for Berry Gordy."
Muse, originally from New Jersey, said it was an honor to meet Motown artists during the special Motown Reunion show they did on Broadway in 2013. He said he had an opportunity to meet Gaye's third wife and other family members.
"That was a crazy experience, Muse said. "They were so happy for how I played the role; they congratulated me and thanked me for doing such a great job.
"I can honestly say, having this role has stretched me as an artist and made me understand things about the artistry."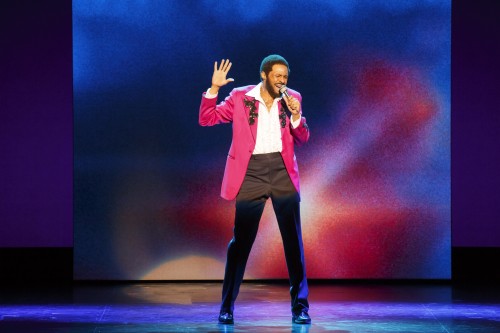 Thom Cooper, senior marketing specialist at Miller, is excited to have this musical grace their stage.
"Miller is so pleased to bring such a wonderful show to Kalamazoo. With its deep Michigan roots, it is a rich story that entertains from beginning to end," Cooper said.
Muse encourages audiences to see Motown the Musical; particularly the Kalamazoo audience who is just two hours from Detroit's Motown Museum.
"Coming to see Motown the Musical is not only a night out on the town," Muse said, "it's history that brought everyone together at a time of segregation and violence in the 1960s. The Motown music, despite all that was going on at the time, really put people in a 'good place.' It continues to do that today."