138-Year-Old Ladies' Library Association Helps Girls of Color Explore the World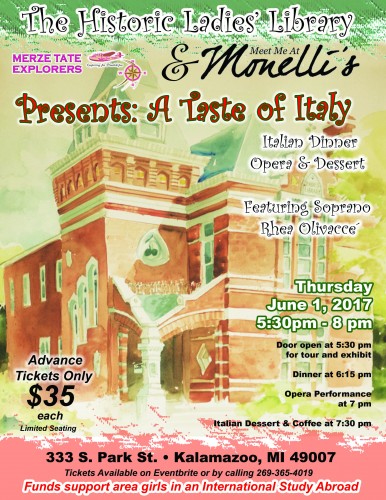 KALAMAZOO (MICH.)–Shemaiah Lawler can identify 20 landmarks from around the world in less than 60 seconds. It is something she, and nearly two dozen other members of the Merze Tate Explorers, are challenged to learn. However, when the eighth grader joined the Explorers in 2015, little did she know she would soon see some of these iconic landmarks up close and personal.
The women of the Ladies' Library Association of Kalamazoo, the oldest women's organization in Michigan, will host A Taste of Italy event to help Lawler and five other Explorers, raise the remaining $10,000 needed to reach their goal $25,000. The event will be held from 5:30-8 p.m. Thursday, June 1, at the Ladies' Library, 333 S. Park St. Tickets are available on Eventbrite at: https://www.eventbrite.com/e/a-taste-of-italy-tickets-34630034365?aff=TasteofItaly
The association, along with contributions from churches, businesses, organizations, and donors of all sizes, are working together to provide the opportunity for the girls to travel to Paris, and throughout Italy as they learn of the culture while earning three college credits. The Explorers will see the iconic Eiffel Tower, Learning Tower of Pisa, Vatican City, Sistine Chapel, and more.
"It is amazing just how much the community is reaching out to support the girls," said Sonya Bernard-Hollins, the founder of the Merze Tate Explorers. "For the past nine years, we have helped girls explore the possibilities in life through amazing hands-on career exploration to such places as Kellogg's Company and Whirlpool. They have flown in planes over their community and navigated the Friends Goodwill ship on Lake Michigan; all with women in careers from marine biology to product engineering. It is only natural that we begin helping them see beyond their neighborhoods, communities, and even country, to explore what the world has to offer."
The event will have food sponsored by Monelli's Italian Eatery, and will feature the operatic sounds of Soprano Rhea Olivacce, a People's Choice Award winner in the Metropolitan Opera National Council Competition. She also is a voice instructor at Western Michigan University. The women of the Ladies' Library have a special dedication to girls and travel, as one of their founders, Lucinda Hinsdale Stone, took girls on study abroad trips to Europe in the late 1800s.
The Merze Tate Explorers was founded in 2008, to expose girls in grades 4th-12th to their world as travel writers. As an award-winning journalist, author, and publisher, Bernard-Hollins uses journalism as a way to get the girls to create videos and their annual Girls Can! Magazines based on those they meet. The program for Merze Tate, a native of Blanchard, Michigan and 1922 graduate of Battle Creek Central High School. She also was the first African American to earn a bachelor's degree in education from Western Michigan University ('27), the first African American graduate of Radcliffe College at Harvard University, a world traveler, and philanthropist. Tate has a scholarship endowed at WMU where she left more than $1 million upon her death in 1996.
Learn more about Tate and the Explorers at: www.merzetate.com