Contributed by Lynn Ward Gray- Battle Creek, MI
Blanket drive on now for 2017 Homeless Health Fair and VA Stand Down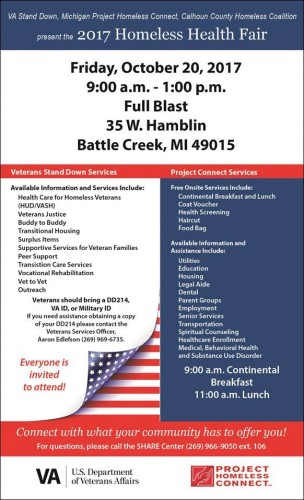 BATTLE CREEK (Mich) — New and gently used twin- and full-sized blankets are being collected now for this year's Homeless Health Fair and VA Stand Down, set for Friday, Oct. 20. The event is organized by the Calhoun County Homeless Coalition, comprised of about 20 community organizations, including the City of Battle Creek.
It is hosted for the third year at Full Blast, 35 Hamblin Ave. More than 500 homeless and formerly homeless neighbors are expected to attend the event, set for 9 a.m. to 1 p.m. A VA Stand Down opening ceremony will precede the event outside at 8:30 a.m., with a presentation of the colors by the 110th Attack Wing of the Michigan Air National Guard, and singing of the national anthem.
The health fair features free flu shots from Walgreens; health care screenings; free haircuts; and giveaways of needed items, like socks, toiletries, and blankets. More than 70 vendors are expected to participate. All attendees will receive two bags of groceries, arranged by the Food Bank of South Central Michigan. Breakfast and lunch will be provided by local churches.
To encourage county-wide participation, Community Action will provide transportation to and from Full Blast. Those who need a ride can call 269-565-4144.
Van pickups will be at:
9 a.m. at the Albion Library, 501 S. Superior St.;
9:15 a.m. at the Albion Family Fare, 1406 N. Eaton St.;
10 a.m. at the Marshall Library, 124 W. Green St.; and
10:15 a.m. at the Marshall Family Fare, 15900 W. Michigan Ave.
Vans will leave Full Blast at 1 p.m. to return to those locations. A community collection this year is for blankets, to be distributed to attendees. The blanket drive is going on now through Wednesday, Oct. 18.
Blanket drop-off locations are as follows:
MichiganWorks! Southwest locations in Calhoun County o 200 W. Van Buren St., Battle Creek; 8 a.m.-5 p.m. Monday-Friday
Ludington Center, 101 N. Superior St., Albion; 8 a.m.-4:30 p.m. Monday-Friday
Lakeview True Value Hardware; 8 a.m.-6 p.m. Monday-Saturday, 10 a.m.-2 p.m. Sunday; 660 Capital Ave. SW, Battle Creek
Minges Creek Athletic Club; 5:30 a.m.-8 p.m. Monday-Friday, 8 a.m.-6 p.m. Saturday, 10 a.m.-6 p.m. Sunday; 21 Minges Creek Place, Battle Creek Contact Haven of Rest Ministries with questions, at 269-788-0984.