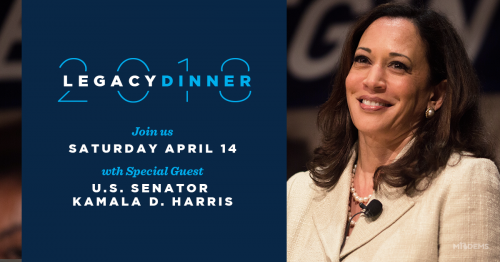 DETROIT (MICH.) On Saturday, April 14, Democrats from across Michigan will gather together to celebrate the Legacy of Women in Politics at the 2018 MDP Legacy Dinner with special guest U.S. Senator Kamala D. Harris!
For tickets visit: Legacy Dinner 2018
*INFORMATION FROM BALLOTPEDIA.ORG
Kamala Devi Harris (b. October 20, 1964, in Oakland, California) is a Democratic member of the U.S. Senate from California. Harris was first elected to the Senate in 2016. Harris is the second black woman elected to the U.S. Senate and the first Indian American to serve in the chamber.[1]
Harris is the former Attorney General of California. She served in the position from 2011 to 2017. When she took office in 2011, Harris became the state's first female, first black and first Asian American attorney general, as well as the first Tamil attorney general in U.S. history.[2]
Biography
Harris earned B.A. from Howard University in 1986. She went on to earn her law degree at UC Hastings College of Law in 1989. Harris then served as deputy district attorney for Alameda County from 1990 to 1998 and later worked for the San Francisco District Attorney's Office. From 2011 to 2016, Harris served as the attorney general of California. She was then elected to the U.S. Senate in 2016.
Career
Below is an abbreviated outline of Harris' academic, professional and political career:[3]
2017-Present: U.S. Senator from California
2011-2016: Attorney general of California
2004-2011: District attorney of San Francisco
1990-1998: Deputy district attorney, Alameda County, Calif.
1989: Graduated from the University of California, Hastings with a J.D.
1986: Graduated from Howard University with a B.A.